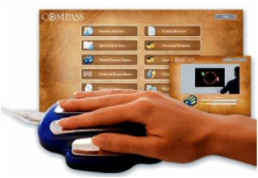 ZYTO® technology is used by more than 5,000 doctors and health care providers to make decisions on the health care needs of their clients with 95% proven accuracy.
Now that same technology is available in our natural health office, which we can easily use to help you make decisions about your personal health & wellness program.
The Balance™ makes health assessments simple –

Place your hand on a small hand cradle, about the same size as a computer "mouse". The hand cradle is the interface between your body and a computer, which sends digital signals to your body and measures your body's responses. Your body's energy field responds to over 400 million bits of information per second.
Zyto's technology is able to read and measure your body's response to digital signatures that indicate your body's preferences to help bring it back into a state of balance, and consequently, improved health.
The Balance scan™ measures 171 bio-markers in your body, then records the bio-frequency of each marker to determine what is out of range (out of balance).
Next, it gives you a picture of your out-of-range bio-markers. When the Balance scan™ registers the imbalance, it looks for the exact supplements that bring every one of those bio-markers back into range, or balance.
Once those supplements have been calculated, the Balance scan™ then gives you a report on the supplements preferred by your body. The report will tell you which supplements bring a number of various markers back into range.
Next, the computer prepares a professional report which contains a description of each supplement and what it does, keeping in mind herbs have multiple uses and your specific need may not be listed under the supplements details. At the end of your consultation, the report will be e-mailed to your home.
When You Come for Your Scan

No prior preparation is necessary – you do not need to fast or collect any body fluids.

If your hands are cold, or if you have applied lotion, we may ask you to wash your hands to warm them.
The scan itself takes approximately 15 minutes to complete. (It may take longer for small children.)
Children under 18 must be accompanied by a parent or guardian.
At the conclusion of your scan, we will briefly go over your report, which will recommend specific supplements for you to use. You may wish to schedule a complete consultation to receive in-depth recommendations about lifestyle changes that will benefit your body and help you to achieve an improved level of health.
The report will be emailed to you; if you do not have an email, a print copy can be provided for $5 fee.
A follow-up scan is recommended at 8 – 10 weeks time, depending on the individual being tested and the health issues being addressed.
All Balance scan™ clients are eligible to purchase nutritional supplements at member prices following their scan. However, they are under no obligation to do so.
Click Here to view our Prices & Packages for Therapies.
*Please confirm appointments with a credit card. You will not be charged until the time of your visit.
Cancellation and No Show policy: No charge for cancelling more than 24 hours of scheduled appointment.
10% fee for less than 24 hours of scheduled appointment / 30% fee for no shows.